Hey guys! Welcome to our first Book Rec Lottery – we had 22 entries for February's theme which is amazing, frankly!
The Book Rec Lottery is a feature run by myself and Michaela @ A Novel Idea where we get reading recommendations from you, the lovely book community, based around a different theme each month. We then randomly pick five to highlight and hopefully find you a new favourite book!
If you want to know more about The Book Rec Lottery check out THIS PAGE!
---
For February, we picked the theme 'Books For People Who Don't Like Reading'. Here are our five randomly generated books (and don't forget the rest of the recs can be found at the end!!):
---
1.Jack Reacher Series by Lee Child – recommended by Susanne @ Floral Cars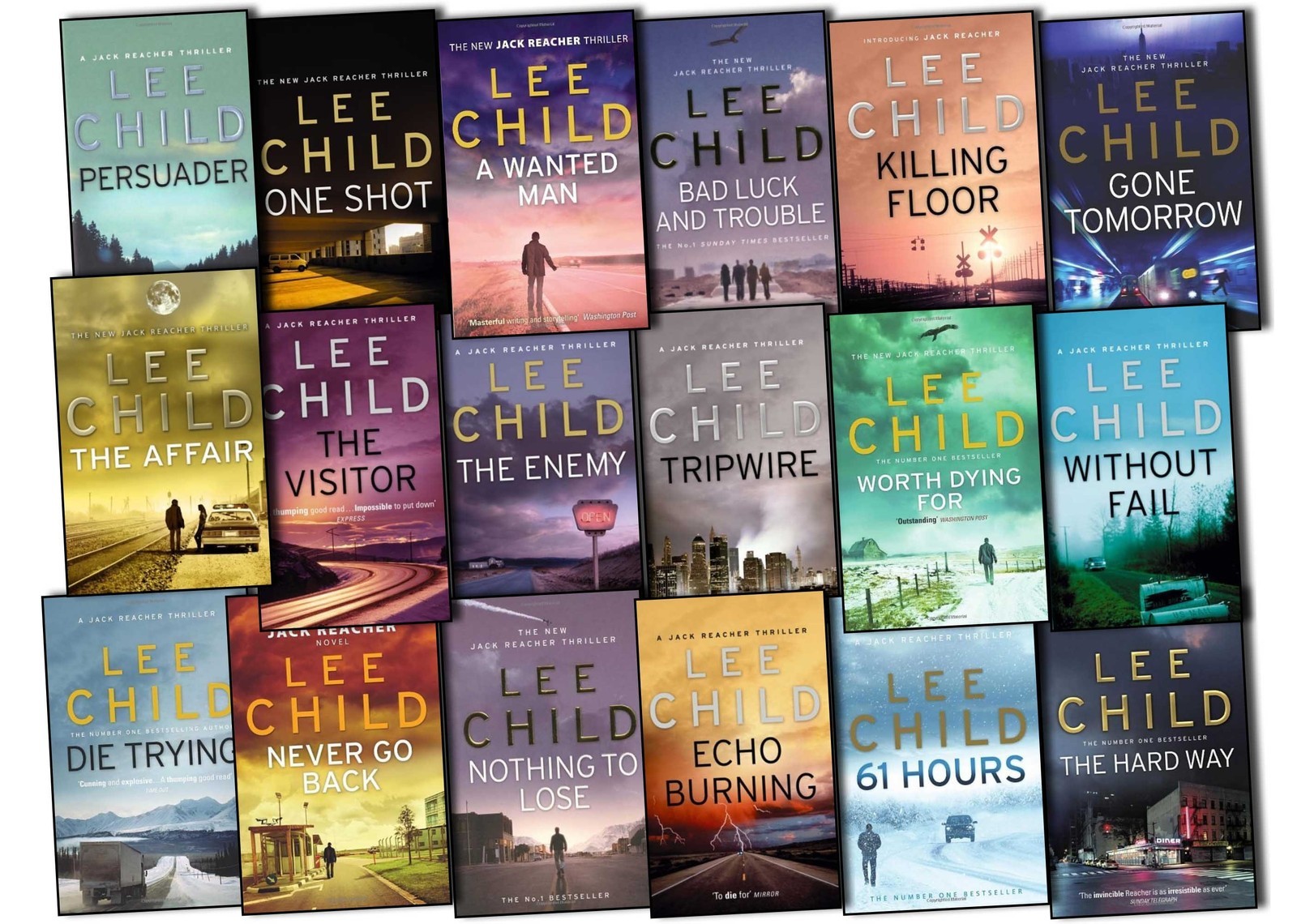 Ex-military policeman Jack Reacher is a drifter. He's just passing through Margrave, Georgia, and in less than an hour, he's arrested for murder. Not much of a welcome. All Jack knows is that he didn't kill anybody. At least not here. Not lately. But he doesn't stand a chance of convincing anyone. not in Margrave, Georgia. Not a chance in hell.

Susanne says: They're easy to read, fun, and keep a steady pace. It's not hard or complicated reading just a bit of fun.
Esmé says: My boyfriend has had to remind twice that this is the Tom Cruise one, not the John Krasinski one! As you may notice, I'm not up to speed on my crime thrillers, but I do know that it's a crazy popular market. I think it's a great bonus knowing there's a film series out there too to compliment the reading experience – especially for someone who doesn't read often, having a film series might be a great way to get them into the books in the first place.
Michaela says: Though I haven't personally read the Jack Reacher series, I have heard of Lee Child and his work, and it's a series that's definitely cropped up over the years. Despite the fact that I've only read a few books of a similar genre myself, I think it's fair to say that any author that can rack up a whopping 23 books in their series (with two more due to be released this year) is certainly worth keeping an eye on; a hefty and impressive feat indeed! I've heard great things about Child's writing, and I think for any new readers anything with a little mystery and suspense is the best way to keep them coming back for more!

2.One Day by David Nicholls – recommended by Siobhan @ Book and Biscuit
It's 1988 and Dexter Mayhew and Emma Morley have only just met on the night of their graduation. Tomorrow they must go their separate ways. But after only one day together, they cannot stop thinking about one another.
Over twenty years, snapshots of that relationship are revealed on the same day—July 15th—of each year. Dex and Em face squabbles and fights, hopes and missed opportunities, laughter and tears. And as the true meaning of this one crucial day is revealed, they must come to grips with the nature of love and life itself.

Twenty years, two people, one day.



Siobhan says: I loved it when I read it; also Nicholls is so used to writing for television that the structure is very episodic and his writing has a lot of visual appeal so I think it would make it quite an easy transition for someone who doesn't read for whatever reason.
Esmé says: This book and film absolutely broke my heart! I feel like it was the first example I had of a novel where the story checks in after gaps of time, which is now one of my favourite tropes. The characters are so realistic and you get to know them so deeply that its hard not to get invested in their lives. I think this is a great novel to introduce a non-reader to the emotions a book can bring up in you.
Michaela says: I have a certain soft spot for stories that take us on a journey throughout a character's life, rather than just focusing on one specific period of their life, and One Day is an excellent choice for just that. This book spans over the course of twenty years, and though it's been quite some time since I read the book or saw the movie, I found it endlessly captivating getting various different snippets into Dex and Em's lives, relationship, and seeing how the years have changed them.

3. The Sea Was A Fair Master by Calvin Demmer – recommended by Becca Leighanne
The world's fate lies with a comatose young girl; an android wants to remember a human she once knew under Martian skies; men at sea learn that the ocean is a realm far different from land, where an unforgiving god rules; a school security guard discovers extreme English class; and a man understands what the behemoth beneath the sea commands of him.

The Sea Was a Fair Master is a collection of 23 stories, riding the currents of fantasy, science fiction, crime, and horror. There are tales of murder, death, loss, revenge, greed, and hate. There are also tales of hope, survival, and love.
Becca says: It's a collection of flash fiction, so the reads are SUPER fast, but also so well-written! I was in complete awe while reading this book! Also, it's a double bonus for horror fans, because Calvin Demmer explores so many different sub-genres! There's something for everyone!
Esmé says: Short stories are SUCH a good idea if you're not a big reader. You get a variety of tales in one volume; didn't like the one you just read? That's okay, try the next without having to leave your comfy chair to peruse the book shelf. If time is something that puts you off reading, then what better than short stories – you can read one or two, get an entire plot, but not have to dedicate too much time to it because they fly and you still get the satisfaction that comes from getting to the end.
Michaela says: Often, if I find myself in a slump, I usually fall back on a book that i'm comfortable with, or I look for books of a shorter variety. I think when you're having trouble focusing, or settling down to read, getting stuck into a shorter book can be so much more fulfilling, knowing that you'll be reaching plot twists and progressing at a faster pace. Though I haven't read this one in particular, I trust Becca's taste immensely, not to mention that I don't know anybody who quite knows, and understands, horror as well as she does. I think that this book, at only 83 pages, is easily accessible to new readers as it means they won't have to dedicate too much of their time and energy to a more challenging and wordy read, combined with it being a series of various different stories, allowing the reader to get lost in a series of different narratives. This kind of approach seems perfect for new readers who might be a little dubious about committing themselves to a book as it allows them the opportunity to flit through a series of genres and varying fates and emotions.

4. Mort by Terry Pratchett – recommended by Sabrina @ Booktails
In this Discworld installment, Death comes to Mort with an offer he can't refuse — especially since being, well, dead isn't compulsory. As Death's apprentice, he'll have free board and lodging, use of the company horse, and he won't need time off for family funerals. The position is everything Mort thought he'd ever wanted, until he discovers that this perfect job can be a killer on his love life.



Sabrina says: It's humorous and quite short so good for getting someone into reading.
Esmé says: I haven't read this particular Terri Pratchett novel, but I do love some of his other work! The character of Death is absolutely iconic and Pratchett's twisted sense of humour is so much fun. I think there's a Pratchett novel for everyone, as they explore a range of different corners in his universe while being incredibly relatable despite the fantastical elements they contain.
Michaela says: I feel like every single reader is familiar with Pratchett's work, even without having read any of his books. He's been writing for so long now, with countless books that I can only imagine will carry on his legacy for decades to come. With a variety of different books and series' aimed at varying age groups, Pratchett's work is often a great way to ease new readers into the literary world, generally being used as a starting point for a lot of young readers looking to branch out and away from the general school-assigned books, while still having a market for older readers too! With up to sixty books in his Dreamworld series, Mort is yet another that reaches bestselling status, and is no doubt rife with humour, mystery, and a compelling world to escape to, much like all of his other works.

5. An Ember in the Ashes by Sabaa Tahir – recommended by Me and Ink
Laia is a slave. Elias is a soldier. Neither is free.

Under the Martial Empire, defiance is met with death. Those who do not vow their blood and bodies to the Emperor risk the execution of their loved ones and the destruction of all they hold dear.

It is in this brutal world, inspired by ancient Rome, that Laia lives with her grandparents and older brother. The family ekes out an existence in the Empire's impoverished backstreets. They do not challenge the Empire. They've seen what happens to those who do.

But when Laia's brother is arrested for treason, Laia is forced to make a decision. In exchange for help from rebels who promise to rescue her brother, she will risk her life to spy for them from within the Empire's greatest military academy.

There, Laia meets Elias, the school's finest soldier—and secretly, its most unwilling. Elias wants only to be free of the tyranny he's being trained to enforce. He and Laia will soon realize that their destinies are intertwined—and that their choices will change the fate of the Empire itself.

Me and Ink says: I love fantasy reads so it's got to be fantasy and I think this one had a very strong plot and strong characters– the main character hope is inspiring . It hooked me start away, had great pacing and I didn't want to put it down. And I hope others would feel the same way.
Esmé says: I'm not a big fantasy reader, and when I do I prefer it to be a realistic setting with fantastical elements, but I have to admit this has intrigued me! This looks like it takes inspiration from other genres and real world experiences, so a new reader might find things for them to relate to and help them connect to the novel more.
Michaela says: Though something of a mystery to me, what with never having read it and not being familiar with Tahri's work, I've heard nothing but rave reviews from friends and strangers alike regarding this book! Though often overlooked, I find that Young Adult authors often have a very natural way of pulling a reader into a world of fantasy that they often wouldn't be inclined to pursue, and this story sounds as though it's an intriguing mix of romance, realism, and dystopia to capture audiences from various angles!
---
Don't fancy any of these recommendations? No worries – here's some more!
---
We hope you've enjoyed our first Book Rec Lottery! March's theme will be launching very soon and we'll be wanting your book recommendations – keep an eye out on Twitter and here on the blog for more info.
What do you think of this month's recommendations? Do you agree with them? Have you read any of them? Let us know in the comments!